5 May 2021


FINNEBROGUE Artisan has promised to continue the legacy of founding chairman Denis Lynn who died in a quad bike accident at the weekend.
EXPELLED from a Belfast grammar school at the age of 15, few would have predicted that Denis Lynn would become a world-class food producer, comfortably rubbing shoulders with Prince Charles.

BORN the day before Northern Ireland came into being 100 years ago, Rosaleen Rogan celebrated her centenary in style on Sunday.

TWO local chefs flew the flag with top class cuisine in last week's Northern Ireland regional heat of Great British Menu.

HOPES have been raised for a new build project at Knockevin Special School in Downpatrick.

ONE hundred staff and friends at Carlisle's in Ballynahinch are each walking five miles this week on a sponsored walk in honour of a much-loved colleague who died last month.

HEALTH minister Robin Swann has insisted that there are "no hidden plans" to close the Downe Hospital.

STORMONT environment minister Edwin Poots was hard at work in the high Mournes recently while announcing a further £2m for the environmental fund challenge competition.

LOCAL beer gardens and restaurants welcomed a return to business as Covid restrictions were eased last Friday.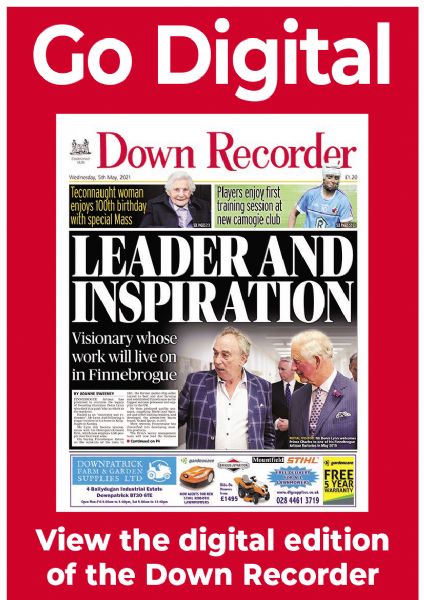 Tweets by @TheDownRecorder